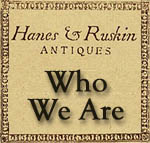 Joy Ruskin Hanes and Lee Hanes are full time professional third generation antiques dealers. Our family has been in business continually since 1946 with Shops in Boston and Foxboro, Massachusetts. Presently we are located in Old Lyme, Connecticut on the shoreline, midway between New Haven and New London. We live in an antique house and are open year round by appointment.

Although our home is New England, our marketplace is America, and we exhibit in over 20 major shows annually. Customers include not only new and advanced collectors but others in the trade, interior designers, and museums nationwide. Our background includes extensive work as a docent at the Florence Griswold Museum in Old Lyme, Connecticut and the Hyland House in Guilford, Connecticut. Additionally, we are regular free-lance writers for various antiques publications.
What We Sell
We specialize in 18th and early 19th-Century American high-style country furniture and appropriate period accessories. These include paintings, silhouettes, English ceramics, fireplace equipment, needlework, samplers and a variety of early metalware. Many items come directly from New England homes. Others are personally selected in England and on the Continent. Our constantly changing inventory reflects our commitment to buy with discretion the finest pieces in original condition which we can offer at competitive prices.
Our Appraisal Service
We are USPAP certified professional appraisers and can schedule a visit to yur home if you need an appraisal for insurance or legal purpose. Appraisals should be updated every 5 to 7 years.
Tell Us What You're Looking For
Because we're committed to the antiques business on a full time basis, we travel extensively and may be able to locate a special article for you. If so, we will send either photos or the item on approval. We have been instrumental in helping build many fine collections over the years and have been cited in Architectural Digest as one of the top ten sources of fine antiques in Connecticut.

Our online Form is a convenient way of letting us know-- just click HERE.
Our Guarantee
The clasped hands in our logo are a symbol of good faith and integrity dating to the 18th Century. We desire always mutually satisfactory business relationships. And as charter members of The Antiques Council we abide completely with the industry's highest standards. EVERYTHING WE SELL IS UNRESERVEDLY GUARANTEED IN WRITING AS TO AGE, AUTHENTICITY & CONDITION.

If you're not sure how something will look in your home we encourage you to try it on approval. If it is not acceptable, feel free to return it with no obligation.
We look forward to meeting you and doing business with you now and in the years to come.


Joy and Lee Hanes
Professional Memberships: The American Ceramics Circle, New Hampshire Antiques Dealers Association, Maine Antiques Dealers Association, Vermont Antiques Dealers Association.
Lee Hanes & Joy Ruskin Hanes
Email:

HANES & RUSKIN
P.O. Box 212
Old Lyme, CT 06371
860-434-1800