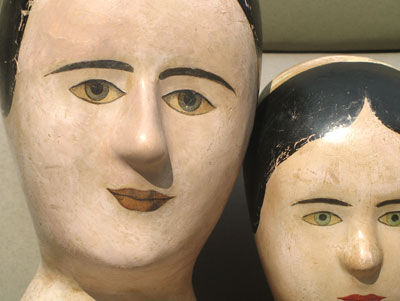 Traveling to France in the 1980s for numerous buying adventures, traveling throughout other parts of Europe, traveling around the USA hunting for stuff, and we have NEVER seen a period child's size milliner's head.
Made by the same maker, Danjard of Paris, around 1870, this "mother and daughter" make quite a pair. The larger one is the standard 15" tall, and the little one is 11" tall.
Both have had a bit of touch-up to the painted surface, as is typical on these. The dress, eyes and lips are printed. We would prefer to sell them together, but if you must have just one or the other, please ask.
$2975.00 SOLD
Ask Us About: two heads
Call us anytime to discuss this or any other item, as well as our convenient terms.