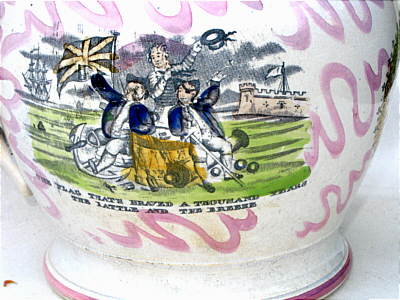 This magnificent example of a Sunderland jug has an interesting array of transfers. One side shows a group of sailors with all of their equipment, with the words, "THE FLAG THAT'S BRAVED A THOUSAND YEARS THE BATTLE AND THE BREEZE."
The front, under the spout, has a hunting verse with a Masonic sun on top (the first time we've seen a hunting theme on Sunderland!). The third side is a view of the iron bridge, and includes a nice view of the bottle oven of the pottery---undoubtedly where the jug was made.
7¼" tall, and in good shape, with only a 1" hairline going down from the rim, and some slight discoloring.
$750.00 SOLD
Call us anytime to discuss this or any other item, as well as our convenient terms.