Coming to the Point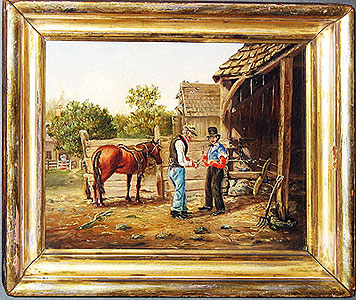 This little painting is based on the painting called "Coming to the Point" by William Sydney Mount, 1855.Mount was the first important American genre painter, spending most of his life on Long Island, where he recorded his observations of daily life. The painting was made into a print and was quite popular in the mid 19th century. Obviously someone who had the print decided to make his or her own version in oils. This differs from the original in that the barn is on the opposite side of the page, and a few other details have been altered.
10½" by 12½" overall.
$ 1175.00 SOLD Ask Us About D61
Call us anytime to discuss this or any other item, as well as our convenient terms.